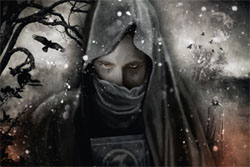 MEMBERS
Daniel Heiman - Guest lead vocals
Markus Sigfridsson - Guitars
Tobias Enbert - Drums
John Svensson - Keyboards
Raphael Dafras - Bass
DISCOGRAPHY
2014: Theatre of Redemption
2008: Chapter II: Aftermath
2008: End Of My Road (EP)
2003/2008: Dreaming Awake
CONTACT
HARMONY
Harmony was formed in 2000 in Borås, Sweden by Markus Sigfridsson [guitars] and Tobias Enbert [drums]. The two were also joined by Henrik Båth on vocals. They recorded a demo in 2001 that received great reviews and also got them signed to German label Massacre Records in 2002.

Their debut album "Dreaming Awake" was recorded during 2002 and released in 2003 through Massacre. The band had created an album full of great melodic metal and at this time they had a complete line-up with Magnus Holmberg on keyboards and Andreas Passmark [Royal Hunt, W.E.T., Work of Art, Narnia] on bass. After the release of the album Harmony played a good number of shows in Sweden, but also in Norway and Finland.

After a few years of recording silence Harmony signed with the Swedish label Ulterium Records and finally released their second album "Chapter II: Aftermath" in 2008, an album that was received really well around the world. The album featured guest vocals by Daniel Heiman [ex Lost horizon, Heed] on the track "Inner Peace", and Kristoffer Gildenlöw [ex. Pain of Salvation, Dial] performed all bass on the album.

Markus, Tobias, Magnus and Henrik also played together in the progressive metal band Darkwater, and when the second Darkwater album "Where Stories End" was released in 2010 Henrik felt that he wanted to put more focus into Darkwater, so they all decided that it was best if he left Harmony, and so did Magnus. No hard feeling involved at all, and all the guys are still in Darkwater.

Markus and Tobias was eager to get to work on the third Harmony album, and they started to select which tracks that would appear on the album, and they decided to start recording it, even though Harmony didn't have a complete line-up yet.

Tobias had during that time started the band Empire 21, and through the contacts there he got to know Raphael Darfas, who also play with Almah. He agreed to perform the bass on the up-coming album, and to join the Harmony line-up. In Empire 21 Harmony also found their new keyboard player John Svensson. Markus and Tobias was impressed by his abilities so they asked him to join Harmony, and he said yes.

The tricky part was to find a new vocalist that would replace Henrik on the new album. After a couple of auditions without finding the perfect vocalist, Tobias and Markus agreed to ask Daniel Heiman to perform the vocals on the album since they both love his voice and since he did such a great job on the track "Inner Peace" on the previous Harmony album. He said "yes" and the strong line-up for the album was ready. To bring in an extra dimension to the new songs, Harmony asked Ulrik Arturén to perform backing vocals on the album, which he did with a fantastic result.

The third Harmony album entitled "Theatre of Redemption" was recorded at different studios around Sweden, the mixing was handled by Henrik Udd and Fredrik Nordström at Studio Fredman [At The Gates, In Flames, Hammerfall] and the mastering by Thomas "Plec" Johansson [Scar Symmetry, Watain]. When listening to the end result, it's obvious that "Theatre of Redemption" got the best production of the three Harmony albums, without competition.

With fast and powerful songs like the album opener "The Window of My Soul" and "Crown Me King", epic mid-tempo songs like the title track and "Son Of The Morning" as well as more commercial metal songs like "Inhale" and "Hands of Time", Tobias and Markus should be proud of themselves when it comes to the song-writing on "Theatre of Redemption".

The strong and diverse songs, the emotional and technical guitar playing by Markus Sigfridsson and the fantastic vocals provided by Daniel Heiman brings Harmony up to the same level as the biggest bands in the melodic metal genre. Just listen and you will see. Follow us into the Theatre of Redemption..